Like many small business owners, you likely manage your own accounting. As long as it's straightforward, and focuses on income and expense, you can easily use accounting software to handle it. Consider hiring an accountant if your finances are more complicated than that. Here are my top 3 picks for accounting software.
1. Quickbooks Pro
Long a standard among small business owners, Quickbooks Pro makes it easy to send invoices and manage accounts receivable. You can buy the latest version of the software or pay a monthly subscription to access the web based version. Depending on your needs, you can add on Payroll and Tax services for a fee.
Why I Like It: I love the online version, even though over the long-term it costs more (I pay $9.95 a month). I get the latest updates and never have to install anything. Plus, I can log in from any computer or location.
2. FreshBooks
Very "in" with the tech and social media set, FreshBooks is also web based. And it has a smartphone app, so you can invoice from anywhere (though why you'd want to is unclear). You can auto-bill a client's credit card, and invoice in any currency. You don't need a credit card processing machine, as your clients can pay with a variety of online payment services, including Paypal. Pricing ranges from $0 to $39.99 a month.
Why I Like It: Anything web based gets my approval, and I like that you have the options for time expense reporting.
3. Express Accounts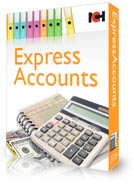 I'll throw this one in as a wild card, as it's pretty affordable, and some small business owners need price sensitive software that works. Express Accounts ranks very highly on Cnet, which I trust. With the software, you can generate quotes, create and print checks and generate reports. It also comes in an Android and iPhone application. Right now the software is $59.95 (one time fee, so that's all you'll pay).
Why I Like It: It's simple to use, and covers most needs for most small businesses.