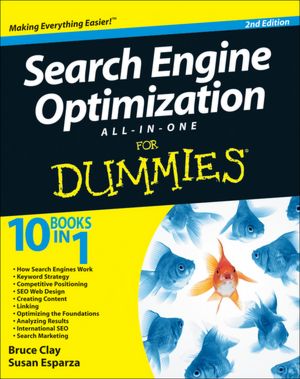 I like reading about topics I'm weak in. For me, that's the more technical side of SEO, or Search Engine Optimization. So when I picked up the behemoth book, Search Engine Optimization All-in-One for Dummies, by Bruce Clay and Susan Esparza, I knew I'd learn a thing or two. This is actually 10 books in 1, which explains its 700+ pages. I recommend using it as a reference book and picking the sections you want to work on as you go.
If you're new to using SEO as a way to be found by search engines, the first book, How Search Engines Work, will demystify SEO and the terms it uses. It's not complicated, actually, and Clay and Esparza do a great job of breaking it down for newbies. If you're ready to move on to more advanced tactics, read Keyword Strategy and Optimizing the Foundations. The authors provide the tools you need to see where your keywords currently rank, as well as determine what you can do to improve your search engine rankings.
One thing I know I could do better on with my own website is adding more than copy. Images and videos, say the authors, can help increase your positioning on search engines. The key is to label them so search engine spiders can identify them. Here are a few tips from Clay and Esparza:
Video
Place keywords in the metadata of the video
Place keywords in the video's filename
Use YouTube to host your video
Link from your video to your web site
Include text about the video in the page area surrounding the video link, if possible
Photos
Use descriptive text for the photo in the text surrounding it
Use keywords (not something like FER33.jpg) in the filename
Use descriptive text in the Alt attribute attached to an image
Reading this book, you'll have a better understanding of how people search online, and how search engine spiders read your site, and you will find many techniques you will be able to put into action immediately, which should help you see a boost in traffic. Search Engine Optimization All-in-One for Dummies is a great read for marketers and business owners at any technical level.